What Was?
Lots of playing in the field!
Congratulations on a successful Devon Horse Show for Kendall and Sabotage Z, Olivia and Picasso, and Danielle and Furst Laugh! So proud of how well everyone rode, "Where Champions Meet"
A special Congratulations to Caitie and Jelly Bean on their success at Middlesex County Horse Show. They won the Medal, the Classic, and were Champion, the baby Bean is growing up!
Also a special shout out to our dressage competitors! What a lovely day at Woodbine Equestrain Center. Way to go DebAnne and Best In Blue, Emma and All Daddy's Silver, Cassandra and Cowboy, Kendall and Wil, Devon and Gralix, and Emily and Kobus. It was a lot of fun to try something new!
What Is?
The best time of the year is here! Camp is underway, the grass field is all set, and the show scheldule is packed. We all have pleny of time to spend with our wonderful horses. Enjoy!
What's Coming?
Good Luck to our riders with their horses and ponies as we head to Brandywine I and II, local day at Brandywine, Derby Day at Briarwood, Hunterson I and II.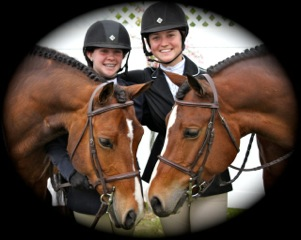 JUNIOR HUNTER FINALS
A special congratulations to Kendall and Sabotage Z for qualifying for the Hunterdon Cup and to Danielle and Furst Laugh on qualifying for the Junior Hunter Finals. Good Luck and Have Fun!
CHILDREN'S HUNTER PONY FINALS
at The NY Horse and Pony Show
Good Luck to Cristyn and Gingersnap, Caitie and Jelly Bean, and Emma and All Daddy's Silver at the finals. And to Faith and the Great Debate in the hunters and equitation. Jump high and go FAST to Devon and Gralix, Emily and Kobus, and Kendall and Axl Rose in the jumper ring!!